Assalamualaikum...
hYe bl0ggers!!
h0neyz nak wat GA...
what???...
yes my dear...
hehehe...
h0pefully, k0rang sudi j0inlah eyh...
;-)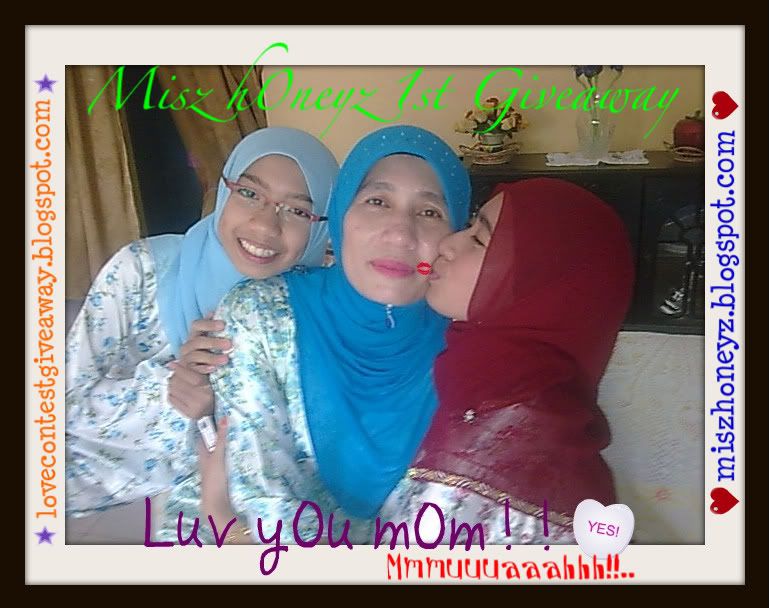 Syarat2nya tersangatlah mudah...
k0rang mst senang pnya nak j0in...
meh...
kter tgk syarat2nya eyh...
[untuk sesaper yg bel0m jdik f0ll0wer h0neyz yea..]
* Tajuk entry k0rang ialah

" Misz h0neyz 1st Giveaway"
[mst letak tajuk entry nie taw...]
* Letak BANNER kat atas tue dlm ENTRI & SIDEBAR KORANG sekali yea...
[ jgn lupa backlinknya skali yea kngkwn...]
* Tag sekurang-kurangnya 2 0wg...
* Finally, Tinggalkan ID FOLLOWER, ID FACEBOOK, dan LINK ENTRY kat cni...
[ Klau xde faceb0ok, xperlu letak ID Faceb0ok...]
* GA INI AKAN DITUTUP PADA 25th May 2011
21st May 2011[11:59p.m]
TAMAT
My bel0ved m0m yg akan membuat cabutan... ;-)
KeNaPa Mak hONeYz yea??..
this GA is dedicate t0 my m0m...
f0r the m0nth of Mother's Day...
Thanks 4 being such a great m0m 4 us...
---
SaRaNghYe ;-)
---